Camping in the Czech Republic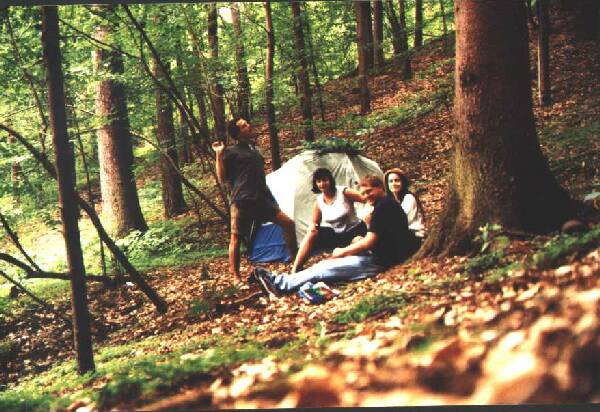 Camp site at Týnska nad Sázavou
Welcome fart heads to our kemping website, offering a glimpse of all the crazy times we had on our regular summer trips out of Prague. After rotting in this city for almost a decade and not having much opportunity to travel, we devised a plan to at least get the hell out of here on the weekends. We'd get up on Saturday, preferably after not drinking too heavily the night before, pull out the already prepared pack out of the closet, make our way to the highway and hitchhike to our destination - some concert, festival, or something interesting we found out from the internet.
Unfortunately, we started taking pictures near the end of the summer, so we don't have much yet.
Above is when we, Jana, Willie and George went to a rock concert and look for magic mushrooms trip. George split and went somewhere else when he found out there was a cover charge to the concert.
Note the fantastic camp spot, the same one I used for several years.

At the rock concert above. Me and Míša took the big plunge and coughed up the dough for the cover.
Cover included concert next day. Many of these folks ended up crashing here on a blanket in the muddy grass.
| | |
| --- | --- |
| Another concert but this time in Malá Skála. Lot of famous Prague bands were playing there and, this time, we were fortunate to be blessed with the presence of Anne, Valentina and Kristen. The river was as clear as ice and it wasn't even that cold, considering how hot and sunny as wonderful fuck it was that day. | |
It was particularly nice to jump into the fluffy river. The locals seemed to have built some sort of a dam thing where the river would be diverted into a jet and bubble up all fluffy like. You'd go out along the edge with the rest of the locals and wait your turn to run down along the side of the damn and dive or flip into the bubbling river.

Eating a sandwich at the Malá Skála above.
We learned it was better to load up on a shit of food before leaving Prague, otherwise you spend much of your weekend looking for an acceptable restaurant. Cheaper this way, nicer, and purblebuts a lot healthier too!!

Made a little trip with the little fart to my favourite relatives out in Mníchovice. Managed to borrow a car and drive around the countryside looking for mushrooms.
We just had to take a picture of all those sheep!

| | |
| --- | --- |
| | The cottage where we were staying and partying at. Vítek got an invitation by his chick friend to go down with her to Ceské Budejovice. But he sort of promised to party with use and I don't visit him that often. They partied with us on Friday (we made a special exception this weekend and left Prague on Friday). To ease his guilt that he was leaving like this on Saturday, he gave us the keys to his car and his pad (left). Made a fire and partied with the kiddies Saturday night. |
Vítek used to live with his mom just down the road. One day he noticed this cottage sitting here, looked up some records and hunted down the babícka who owned it, asking her if he could rent it from her, seeing she never uses it.
She was glad to have someone take care of it and said she would be happy if he just covered the property taxes. So he now lives there year round and pays only 1,500 Kc rent for the entire year!!!
| | |
| --- | --- |
| One day returning from one of our camping trips. After our beer in St. James, we decided to walk across the Charles bridge. It's not very visible, but Míša positioned the tight straps of her backpack to assentuate her hooters as much as possible. It's fun to come back to Prague all stinky from the campfire and try to shock tourists. Tourists didn't seem too shocked though but rather pleasingly amused... :o( | |
And for the ultimate camping trip of all, mine and Misa's trip through Europe.
Or are next year's trip to Bulgaria and Istanbul (although this time without tent).
Winter of 2003/2004 I finally managed to escape the cold I suffered my entire life, to Mexico!!

Shit to do out of Prague in the Czech Republic summer of 2004
For great tips on camping and hiking in Bohemian Paradise.
Czech Republic camping pictures - from 2000km of the best bicycling in the world.

Czech festivals - great reasons to go out into the countryside. Beer festivals and other great excuses.
Ski hash in Krkonose

My life in Prague
My reflections of the Czech Republic
Information on the Czech Republic
Tourist information on the Czech Republic

Czech to English translations translator