Krkonose Ski Trip - Czech Republic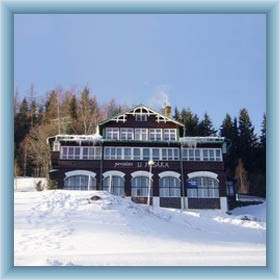 I organised this ski party for the PH3 and am now keeping this website to explain about the area. I hope to develop it further, and put up some pics of our event. The snow was fantastic.
There is room for forty of us, and the cost is 300 Kc (about 10 Euro) a night including breakfast. They didn't ask for a deposit, so you just pay when you get there.
I was thinking about cross country on Friday and downhill (I personally snowboard - I will be offering free lessons for those who are interested) on Saturday. For those who can take the time off and want to ski on Friday, they'd have to come, obviously, on Thursday.
On Friday Tanya the amazing currie cooker will prepare us a storm and we will have a party in-house. I plan to bring my super salad dressing. There should also be a cool band playing there. Think it will be a fun evening and I will try to bring my laptop for MP3 music.
For Saturday night perhaps go to some local cheesy disco or something.
The cabin is located in Pec pod Sněžkou (Pec pod Snezkou), which is in the north-east corner of the country, in the mountains near the Polish border, and it takes about 3 hours and 15 minutes to get there by bus from Prague. You can check out train and bus schedules here. I asked about reservations and it is apparently not necessary. The best thing is if you just get there early enough so you can all sit together. To make sure you get seats on the way back on Sunday, ask the bus driver what he suggests.
- for pictures of the area according to the site above, click here;
- other pictures here;
- some virtual routes here;
- pictures and info of the ski areas here;
- more pictures;
Here are some links of the area (Krkonoše - the highest mountain ranges in the Czech Republic):
- the national park

Below I have put my own pictures of the lodge and the area. If you would like to come to this event, or have any suggestions or when you think would be a better date, just write me an email so that we can start to organise this. The lodge said they need it reserved and the deposit paid by the end of November if we want the entire cabin to ourselves.
Lookin forward to seein ya all! poop
Hmm, wouldn't it be nice if we could organise another roasted pig, like in Certoryje?
This was taken during this summer in a beer festival in Vrchlabi, close to where the cabin is.

To take a peek here to Czech out a big event I organised this summer in Cesky Raj.