Translation Accounting Software
This accounting software could be used for other industries with some minor tweaking. Simply contact me to discuss modifying the software for your needs. I have also made a simpler and less expensive version for translators who are not operating a translation agency. The "software" is basically a Microsoft Access Database (MSA) file, for which reason you will need that software. It usually comes with Microsoft Office, but if you do not have it you can ask me for help with where to download it from. The advantage of using this software is that it is a file you can easily customize for your own needs, such as adding your logo to your invoices, the language and format your invoices are written in, etc. For customization you may check out my tree planting accounting software or the "Look and Feel - Your Own Tweaking" near the bottom of instructions for the demo version of accounting software. You can download the free demo version for that industry to get an idea of how it works and how customizable it can be.
The below page is still under construction but should show most of the features.
Some features of this accounting software:
fully customizable and editable. Add your logo to your invoices, change the numbering format of invoices (1.000,- instead of 1,000), create invoices in your own language, and much more;

easily set up different ways to get paid (PayPal, bank transfer, by cheque etc), select which payment method for each order, then issue invoice in pdf format with the click of a button;

profits are calculated per day, so if you have several jobs at the same time, it will give you an accurate report of your profits per month (since some jobs might start in one month and end in another); <from these offer link to more detailed explanation. Link back to TOC from each detailed section etc.>

report of which customers still owe you money, showing earnings in different currencies and other details;

powerful search and sort functions, as explained in the Navigation and Data Manipulation Instructions in the instructions for the demo version of accounting software; <link to bookmarks instead, _blank>

issue invoices in any currency and always show earnings in currency of your choice
Full version for translation companies (different options available):
complete with online application form, the database/results of which can be downloaded to your computer and automatically connected to this software for quick, offline searches

our own database of translators and remote workers who have applied through our online application form over the past 15+ years, total numbering more than 12,000

help in converting your own database of translators to a format which would work with this software

search for translators by language combination and other criteria

help with sending mass mailouts (each email is sent separately to each translator so as not to be considered as spam and blocked by their email provider; use different fields to customize the messages, such as addressing each translator by their first name)

any other logistical and computer/programming help relating to the running of a translation company

online system to accept tender applications from translators for particular projects, whereby each translator can submit their special price for the project and translation sample, which can then be assessed online by any number of chosen assessors. This saves an immense amount of time compared to having to deal with samples sent as attachments by email.
Below are some screenshots of the various functions, to give you an idea. You can also check out the accounting software I made for the tree planting industry, to see how customizable the system is, or how you could customize it yourself.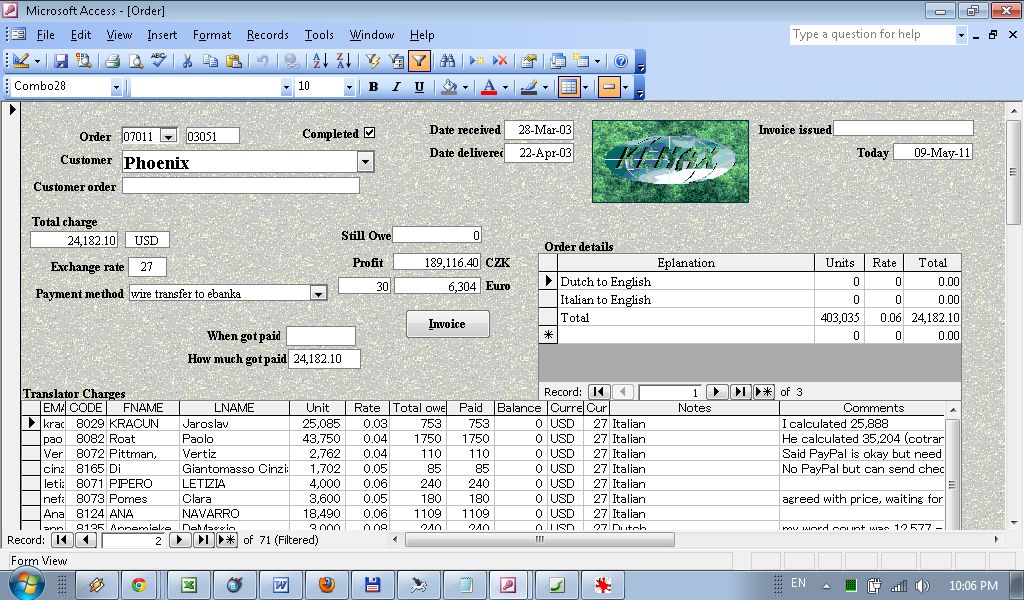 This is the main Order form with which you can see such values as the customer for a particular project, the items you will charge and which will end up on the invoice, and Invoice creation button based on the data in the form, your costs (Translator Charges for agencies/full version), profits, method of payment to you, a comments section (when scrolling down in the window of the above snapshot) and other details.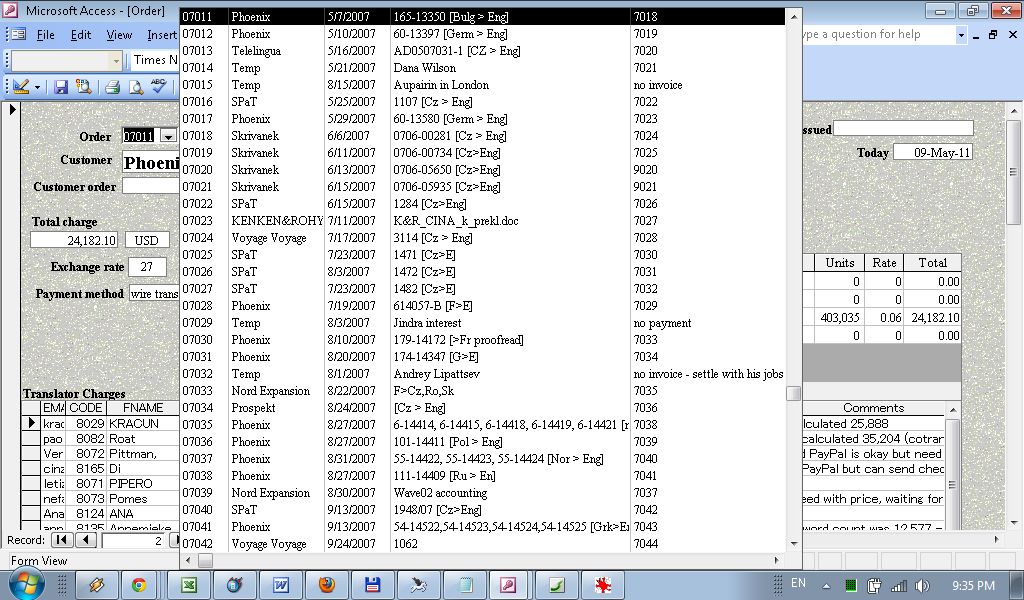 When you click on the Order combo box at the top left, a list of all orders pops out to help you select one of them. The list has some basic information, such as the Order no., customer name, date delivered, their order number and the invoice number.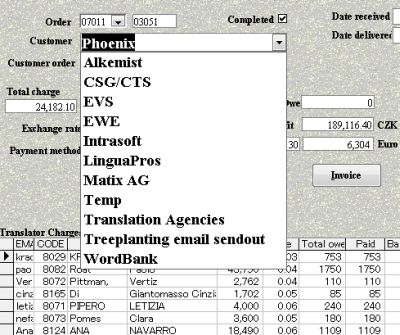 When selecting a Customer for your new order, the dropdown menu is limited to only Regular Customers. This is the same for many other selection boxes, such as Translators for the full version. When assigning translators to projects, you might have tens of thousands of them in your database but only regularly use a few of them. The Regular field is used for many such selection boxes.
"Temp" can be for one-time customers. Just fill out the details they want on their invoice into the Temp customer record and then press the Invoice button.

In this same window, if you scroll to the right you can see an overview of the progress of all jobs. For example, there could be a Translation, Proofread, Vetted, Finalised and Sent stages of a translation (as shown here). More fields can be added and the default setting of this view can be set to only show those jobs that have not yet been Sent, to keep the list to a practical minimum.

Scrolling down in this same Order form you have the Translator Charges input form. Forms can easily be added as subforms into other forms. When adding translators to a job only the Regular translators are shown. The reason why translators cannot be added to the Translator Charges section visible at the top of this form is so that the translators shown there cannot be accidentally changed.
Customer Accounting Form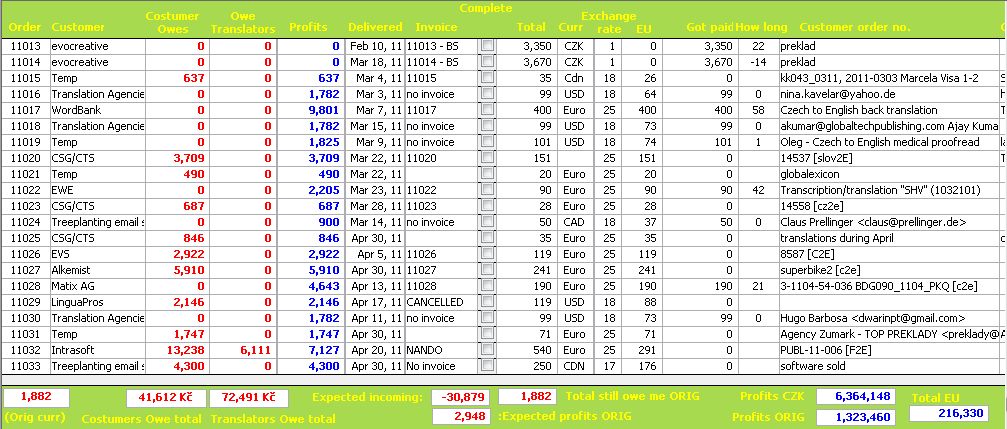 This shows an overview of what customers owe. The left red column shows what customers owe in Czech Crowns, but you can choose whatever currency you want

(accomplished in the section of the main Order Form above as shown here to the right. For each job you fill in the exchange rate between what you are charging and your own currency (in this case USD to CZK), and then the Euro to CZK exchange rate in the bottom right - at that time 30. You can change the CZK or Euro to whatever you want and is useful if you'd like to see your profits in two different currencies). This is useful if you live in one country and charge customers in different currencies, and would like to see profits in your local currency.
The second red column, Owe Translators, is also converted to the same local currency, as is Profits, coloured blue just to the right.
Near the middle is the EU column, if you'd like to see profits in another currency. In the Translator Charges subform below you can see the currency charged by your translators and the exchange rate (to your local currency) just to the right. All values of any field that needs to be filled in a new record (job/project, translator working on that project, file with word count that you will charge) can have a default value, which can be changed anytime (such as if the currency exchange rate changes - otherwise you can set and leave a particular default).
The How Long column is how many days it has taken your customer to pay you, calculated by the difference between the When Got Paid and Date Delivered fields in the main Order form.
There are other fields (the project's Comments and average profits per day) to the right of this Customer Form not visible here only because the computer monitor used to make these screenshots is smaller. Simply scroll to the right if you need to view them (or they will be visible on a larger monitor).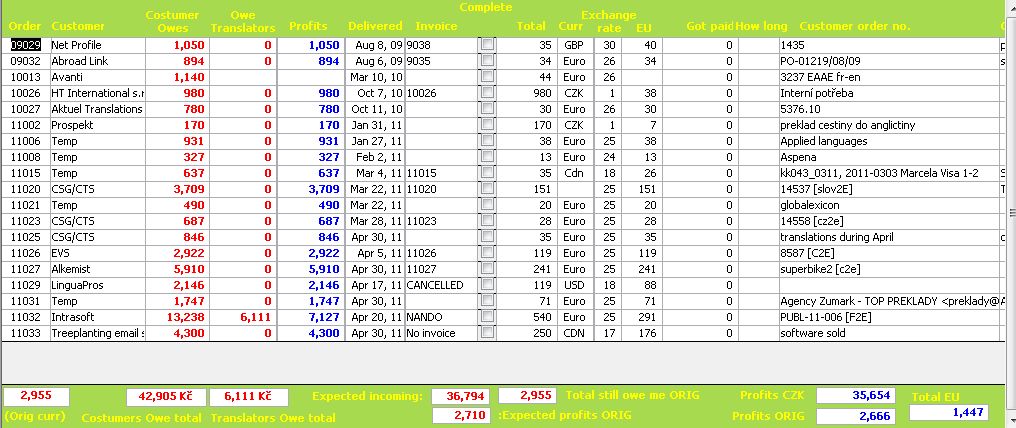 As explained in the powerful search functions feature<, search criteria can be applied to this and any other form. In this case above the search/filter criteria has been set to show all records where Customer Owes is greater than 1. In this case the values at the bottom of the value (expected incoming payments, expected profits in original language, customer owe total etc.) are recalculated considering the filter/criteria.
Or you can click onto some customer in the Customer field and press the

button (flash selection) to filter and only show that customer, as shown here: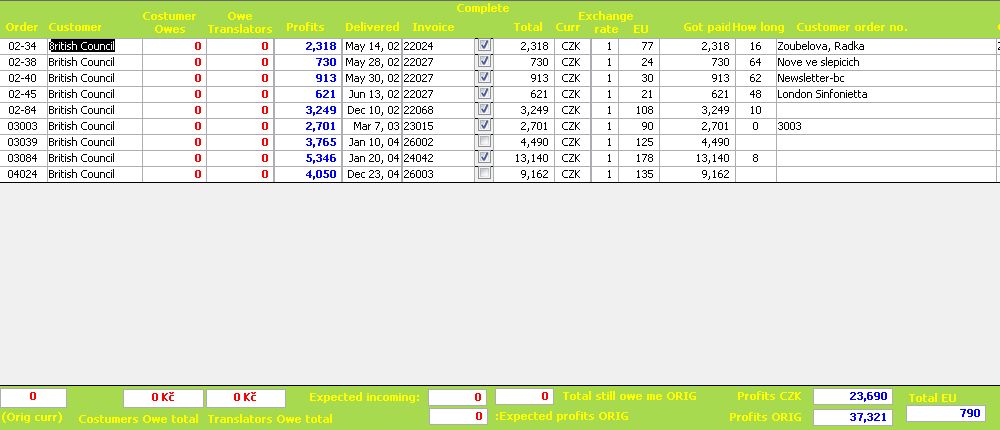 As you can see by the calculated totals at the bottom of the screenshot above, they adjust automatically according to any filter criteria, such as profits above a certain amount, jobs that are not completed yet, jobs after a certain date or during a certain period, in a certain currency, etc. etc. For a more detailed explanation on powerful how the filter criteria function works, check out the tree planting< instructions.
As explained in those instructions, the records can be sorted according to any field (such as from lowest profits to highest), and combined with several criteria (such as only a certain customer, during a certain period, and within a certain profit range - etc. etc.).
< sorting by who owes me (how much), translators I owe etc.
Customer Owe Explain form

This form is useful if you want to remind a customer what it owes you. In this case I flash selected my customer Intech. In this window I selected certain records (marked in black above), and copy/pasted the selection into an email or Word file etc. to produce the following output:
| | | | | | | | | | |
| --- | --- | --- | --- | --- | --- | --- | --- | --- | --- |
| Customer | Customer order no | Date delivered | Eplanation | Units | Rate | Total | SumTotal | Currency charging in | Invoice issued |
| Intech | DA-5620AD-0531 | 6/4/2002 | English to Czech translation | 11300 | 0.05 | 11,300.05 | 565 | USD | 22034 |
| Intech | VAC-FI2842A-0603.PDF | 6/5/2002 | English to Hungarian | 1300 | 0.065 | 1,300.07 | 149.5 | USD | 22034 |
| Intech | VAC-FI2842A-0603.PDF | 6/5/2002 | English to Czech | 1300 | 0.05 | 1,300.05 | 149.5 | USD | 22034 |
| Intech | DA-5620-ADD-0606.PDF | 6/10/2002 | English to Croatian | 330 | 0.06 | 330.06 | 19.8 | USD | 22034 |
| Intech | DV5620AD-NEW-0614 | 6/15/2002 | English to Czech translation | 355 | 0.05 | 355.05 | 17.75 | USD | 22034 |
| Intech | DAV-F-986-0620.PDF | 6/20/2002 | English to Czech translation | 1 | 20 | 21.00 | 20 | USD | 22034 |
| Intech | DAV-F-986-0620.PDF | 6/20/2002 | (minimum charge) | | | | 20 | USD | 22034 |
| Intech | JD8406T-0627 | 7/1/2002 | English to Czech | 2795 | 0.05 | 2,795.05 | 139.75 | USD | 22035 |
| Intech | FFH-286-5670-S197-0708 | 7/11/2002 | English to Czech | 4852 | 0.05 | 4,852.05 | 242.6 | USD | 22035 |
| Intech | FFH-286-5670-S197-0708 | 7/11/2002 | (1573+1876+1403) | | | | 242.6 | USD | 22035 |
| Intech | FI3741J-0711 | 7/16/2002 | English to Rumanian | 1074 | 0.055 | 1,074.06 | 59.07 | USD | 22035 |
As usual you can use the powerful filter/sort features to only show certain records (such as the ones your customer has still not paid you for) to quickly generate whatever report you like.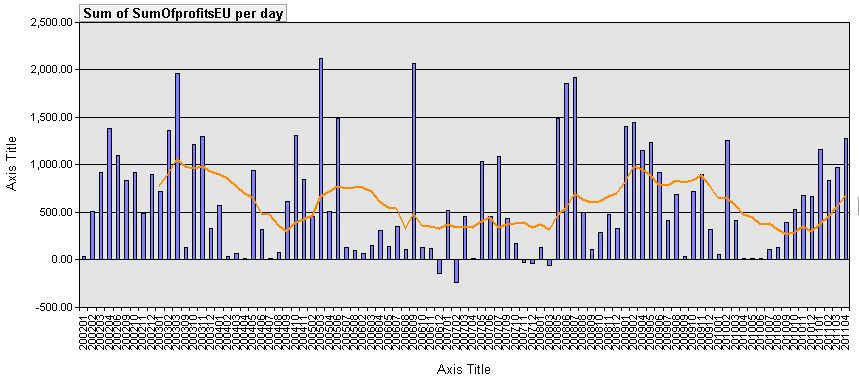 This shows my monthly profits (accurate because profits are calculated per day, no matter how many jobs you have at once or if any of them spill into the next or other months), with three month running average (orange line running across). As usual the filter/criteria can be adjusted to only include such records as within a certain time frame, for a particular customer, below a certain profit level, etc. etc. (all will be explained in the manual, or I can help you customize).
The field description along the bottom is yearday, so 200201, as shown in the bottom left, would be January of year 2002.
Invoices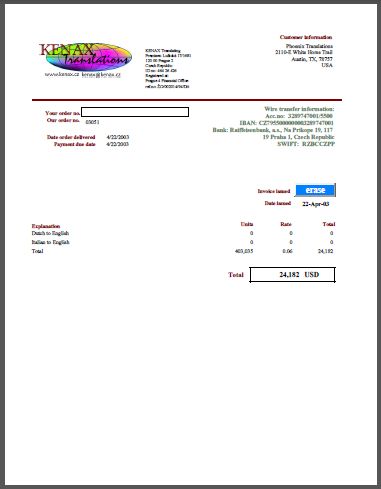 For invoices lets take our order form at the top of this page. It concerns order number 03051 (the combo box to the left is a dropdown list used to select orders, as explained above) for the customer Phoenix, to be paid in USD to "wire transfer to ebanka". I did not issue an invoice for this project but combined it with a later project, for which reason Invoice Issued at the top right is empty, but I created one anyway and named it erase.pdf, which you can download and view to see its full size.
Here is a sample in another language, and one with many items.
Much of the data is drawn from the Order form at the top, where the Customer Information at the top right is drawn from the Customer table and based on the customer (in this case Phoenix) selected in the Order form. Each customer has its own record in the Customer table, with all its specific information (how they like to pay, contact information, invoice mailing address etc.).
The top left is just a logo which you may replace with your own picture or object.
To the right of that is information required by the Czech Republic to be on all invoices. You can put here whatever you want, or just leave blank.
Underneath Customer Information is the payment instructions information, so the customer knows how to pay you.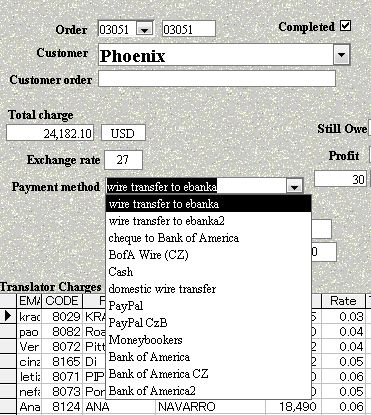 This payment instructions section and the info in the top centre, just to the right of the logo is drawn from the Payment Method To Me table, and hence depends on what Payment Method is selected in the Order form (picture to the left). This is a simple table to which you add a record every time you have a new payment method. For example, if the two fields of information are the same but you need one in another language, simply create a new record, name it something, and it will be automatically added to the dropdown list shown to the left.
The invoices are created when you press the Invoice button in the Order form, which basically sends a print command for that order number only. For this something like PDF Creator is useful, as it will create a PDF file through the print function. As explained in the customization instructions<, your invoice template can be changed as easily as changing a Word file, replacing the logo, changing the text to another language (although for that it is better to Save As the form so that you still keep the English version), adding a signature picture, moving things around to better suit your tastes, and changing the Payment Due Date variable, which at the moment is set to equal the Date Order Delivered and Date Issued fields (if you do not want it to be equal but let's say two weeks after the delivery date - the instructions explain the simple way how to change this).
To change the numbering format (such as from 24,182 USD to 24.182,- CZK) or the date format (such as from 4/22/2003 to 22.4.2003, as can be different in different countries), simply change the Language and Regional Settings in Window's Control Panel.
Conclusion and Freelance/Translator-Only Version
I created this system for my own needs and can certainly develop it further to match yours. I have many ideas for development but simply have much other work on my table to really bother, but would enjoy developing it further according to the needs of others. The next page will explain how I manage the payment of translators and other expenses. For the freelance version for translators who do not need to have a database of or need to regularly pay other translators (if you only need to pay the occasional translator a simple cost section per job order will suffice), that version still needs to be developed, but that only requires stripping down this full version to remove the database and restructure things a bit. I will do so if there is enough demand. Please write to me to express your interest.